DLB full duplex wireless transceiver module for video and data Link
-- TDD OFDM full duplex wireless transceiver module for video and data link
-- Up to 30Mbps Iperf Throughput @20MHz channel
-- Supports Point-to-Point and Point-to-Multipoint networks
-- RF Tx Power: 25±2dBm
-- Working Frequency: 806~826HMz, 1428~1448MHz, 2402~2482MHz
-- Web UI or control uart for management
-- 2 Ethernet and 3 TTL uart data link
-- Audio input and output with codec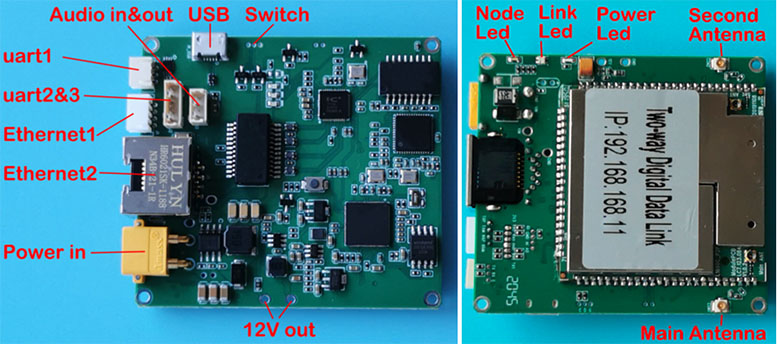 Sihid DLB module was designed for video and data wireless transmission with two way wireless data link. This OFDM radio module works at 800MHz, 1.4GHz and 2.4GHz bands, with frequency hopping technology (FHSS) to make sure better stability signal communication.
Features:
TDD OFDM modulation
Supports three bands (806~826HMz/1428~1448MHz/2402~2482MHz)
Supports FHSS inside each band
1.4/3/5/10/20MHz band widths
Max 30Mbps@20MHz throughput
RF transmission power: 25±2 dBm
Constellation: QPSK, 16QAM, 64QAM, self-adaption
Sensitivity: -106dBm(2.4GHz 1Mbps), -108dBm(1.4GHz 1Mbps), -108dBm(800MHz 1Mbps)
Supports IP data transmission(2 Ethernet port)
Supports serial data transmission(3 channel, TTL)
Supports audio input and output with codec on board
Up to 17km LOS (UAV-to-ground) and 2km LOS(ground-to-ground)
Web UI or control uart for management
AES128 encryption
Uplink and downlink stream control
Networking mode: Point-to-Point, Point-to-Multipoint, Relay, mesh(specify)
Movement Speed: Supports no less than 120km/h
Power input: 7~30V
Power consumption<4.5W
Dimensions: 58*64*13mm
Weight: 32g
I/O
| | |
| --- | --- |
| Power in | XT30PW-M connector, DC in:7~30V |
| Ethernet 1 | 4PIN ZH1.5mm connector |
| Ethernet 2 | RJ45 connector |
| Data uart1 | 3PIN ZH1.5mm connector, TTL 3.3V |
| Data uart2 and uart3 | 6PIN PH1.25mm connector, uart3 works as control uart and data uart, TTL 3.3V |
| Audio input and output | 4PIN PH1.25mm connector |
| USB | Micro USB connector, for software upgrading |
| Switch | Tx/Rx control signal for outside power amplifier |
| Main antenna | Tx/Rx Antenna port, IPEX |
| Second antenna | Rx Antenna port, IPEX |
| 12V out | On-board 12V out(<150mA), for cool fan power supply |
Wireless networking with DLB
DLB module supports two operating modes: Access Node or Central Node. It can be managed through Web UI or AT command via uart3. DLB module supports features of maximum 16 Access Nodes connected to a Central Node. All of the Nodes are in a same wireless LAN and share the whole transmission bandwidth (maximum 30Mbps@20MHz throughput). Data from Central Node to Access Node, we call downlink, and data from Access Node to Central Node, we call uplink. Uplink and downlink stream ratio can be controlled through web UI or AT command. When using DLB module for Point-to-Point transmitting, uplink and downlink share the whole transmission bandwidth (maximum 30Mbps@20MHz throughput) too. DLB module supports networking mode: Point -to-Point, Point-to-Multipoint, Relay, and Mesh (specify mesh version when order).
Add Tx Power Amplifier
The maximum RF transmission power of DLB module is 25±2 dBm, Sihid also provides power amplifier to increase the RF Power to 2W/5W/10W. Below diagram shows how to add power amplifier outside of the DLB module.

Point-to-Point transmitting

Point-to-Multipoint transmitting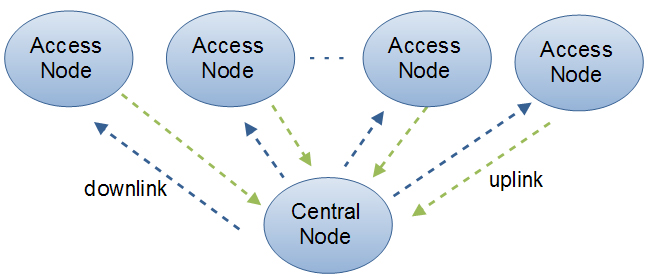 Relay transmitting

Mesh transmitting (Specify)