HDT51 series video transmitter with TDD duplex data Link
-- 300mW TDD OFDM full duplex wireless transceiver works at 800MHz, 1.4GHz or 2.4GHz bands
-- HD video transmission with H.265/H.264 video codec supporting
-- Ethernet and TTL uart data link
-- Transmit distance: 500~2000 meter(ground-to-ground), 5~17km(UAV-to-ground)
These wireless digital video transceivers was designed to capture real-time HD video with two way wireless data link. These transceivers feature HD or SD video input/output with two way OFDM modulation technology and H.265/H.264 codec that complete video audio transmission in high-speed motion with low latency. This OFDM radio works at 800MHz, 1.4GHz or 2.4GHz bands, with frequency hopping technology (FHSS) to make sure better stability signal communication.
Now we have 2 models video transmitter in these series:
- HDT510 video transmitter with HDMI/AV input
- HDT511 video transmitter with SDI/AV input
Both of the two transmitters are paired with HDR510 video receiver.
Features:
TDD OFDM modulation
Supports 3 bands (806~826HMz/1428~1448MHz/2402~2482MHz)
Supports FHSS inside each band
1.4/3/5/10/20MHz band widths
Maximum 26Mbps@20MHz throughput
RF transmission maximum power: 300mW
Constellation: QPSK, 16QAM, 64QAM, self-adaption
Sensitivity: -106dBm(2.4GHz 1Mbps), -108dBm(1.4GHz 1Mbps), -108dBm(800MHz 1Mbps)
H265/H264 Video codec, full HD resolution 1080p/i @60fps(optional 4K@30fps)
Supports IP data transmission(1 Ethernet port)
Supports serial data transmission(2 channel, TTL)
500~2000m(ground-to-ground), 5~17km(UAV-to-ground)
Control uart for management
AES256 encryption
Uplink and downlink stream control
Movement Speed: Supports no less than 120km/h
Compact size and light weight
Rugged aluminum alloy housing
HDT510 Video Transmitter
Video input
HDMI or CVBS, auto-detected after system start-up
(optional: HDMI+CVBS at the same time)
Video formats

1080@60P, 1080@50P, 1080@30P, 1080@25P, 1080@24P, 1080@60I, 1080@ 50I, 1080@30I, 720@60P, 720@50P, 720@30P, ……
720*480 60I(NTSC), 720*576 50I(PAL)
(optional: 3840*2160@30fps)

Video encoder
H.265/H.264
Audio input
Embedded HDMI or analog audio
Audio coding
AAC, 16bit, stereo, 32Kbps
HD video input
Mini HDMI, HDMI type "B" connector
Composite video input
6PIN PH1.25mm connector
TTL data uart(D1)
3PIN PH1.25mm lockable connector
TTL data uart(D2)
3PIN PH1.25mm connector
TTL control uart(D3)
4PIN PH1.25mm connector
Ethernet
4PIN lockable connector
Speaker
2PIN PH1.25mm connector
Power in
VDD/GND cables
RF output
Two SMA female
Power input
9~24V(default 12V)
Power Consumption
<6.5W
Dimensions
74*53*29mm
Weight
102.4g
HDT511 Video Transmitter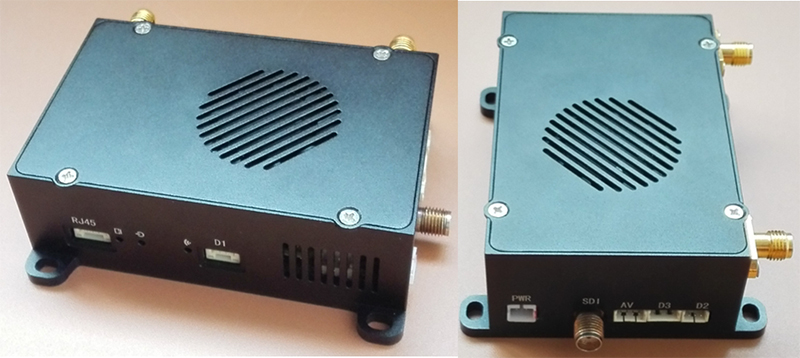 Video input
SDI or CVBS, auto-detected after system start-up
Video formats

1080@60P, 1080@50P, 1080@30P, 1080@25P, 1080@24P, 1080@60I, 1080@ 50I, 1080@30I, 720@60P, 720@50P, 720@30P, ……
720*480 60I(NTSC), 720*576 50I(PAL)

Video encoder
H.264
Audio input
Embedded SDI or analog audio
Audio coding
AAC, 16bit, stereo, 32Kbps
HD video input
SDI, SMA female
Composite video input
4PIN PH1.25mm connector
TTL data uart(D1)
3PIN PH1.25mm lockable connector
TTL data uart(D2)
3PIN PH1.25mm connector
TTL control uart(D3)
4PIN PH1.25mm connector
Ethernet
4PIN lockable connector
Power in
2PIN PH2.0mm connector
RF output
Two SMA female
Power input
9~18V(default 12V)
Power Consumption
<7W
Dimensions

80*52*26.9

mm
Weight
110g
HDT510/HDT511/HDR510 overview.pdf